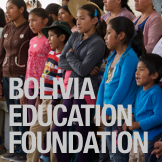 Every student has the potential to do well in school. Lack of resources puts boys and girls at risk for miss ing out on meeting that potential. Our Casa de Educación program gives the children of poor families the opportunity to get ahead of the poverty cycle.
¿Cuál es la "visión" de su organización?
La educación es la principal vía para salir de la pobreza.
¿Cuál es la "misión" de su organización?
Hacer posible que los jóvenes pobres obtengan un diploma de la escuela secundaria
¿En que regiones del país realizan su trabajo?
Cochabamba
¿En qué proyectos estan trabajando actualmente?
2 Casas de Educación en Colcapirhua